Blow down vessel­with or without heat­recovery
In the JUMAG blow down vessel, blow-down water and first condensate are relieved and cooled before being discharged into the waste water system. Mixing blow-down water with cold water supply reduces cooling water consumption.
In addition to the classic JUMAG blow down vessel, the model with heat recovery has an integrated heat exchanger. This is how you use energy of the blow-down water and the first condensate to preheat your feed water
The JUMAG blow down vessel with or without heat recovery: Function and Benefit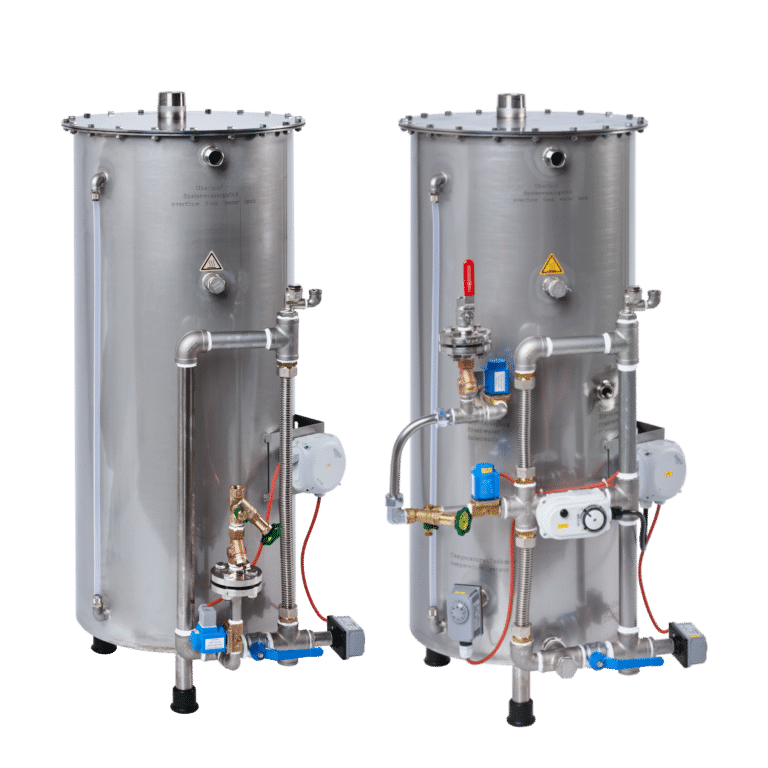 What are JUMAG blow down vessels used for and what are their advantages?
Concentrated boiler water must be drained regularly
When water evaporates, substances such as salts or silicates which do not pass into the steam remain in the boiler water. The boiler water in the pressure vessel thus continuously increases in concentration. This concentrated boiler water must be blown down regularly to prevent corrosion and deposits in the pressure vessel.
Relieve and cool the first condensate and blow-down water
First condensate is boiler water entrained in the steam, which is discharged from the steam line during the process.
Both the blow-down water and the first condensate are pressurised and have steam temperature. In the blow down vessel, blow-down water and first condensate are relieved and cooled before they may be routed into the waste water system.
Use valuable energy and avoid the discharge of hot water into the sewer
The blow down vessel with heat recovery has all the features and advantages of the JUMAG blow down vessel.
Heat recovery brings additional energy savings. For this purpose, the blow down takes place in a water seal. In an integrated heat exchanger, the energy of the blow-down water and that of the first condensate are transferred to fresh feed water before supply to the feed water container.
When the temperature of the water header exceeds a defined value, the water is collected. This uses the energy and no hot water can flow into the sewer.
Safe, economical, easy to maintain and quiet
High operational reliability through connection to boiler control
Cooling water consumption is reduced through delayed draining
A water level indicator increases operational reliability
Reduced-noise blow down possible
Good accessibility for maintenance
All versions with mounted cold water supply module to protect the sewer. Compact piping for space-saving installation.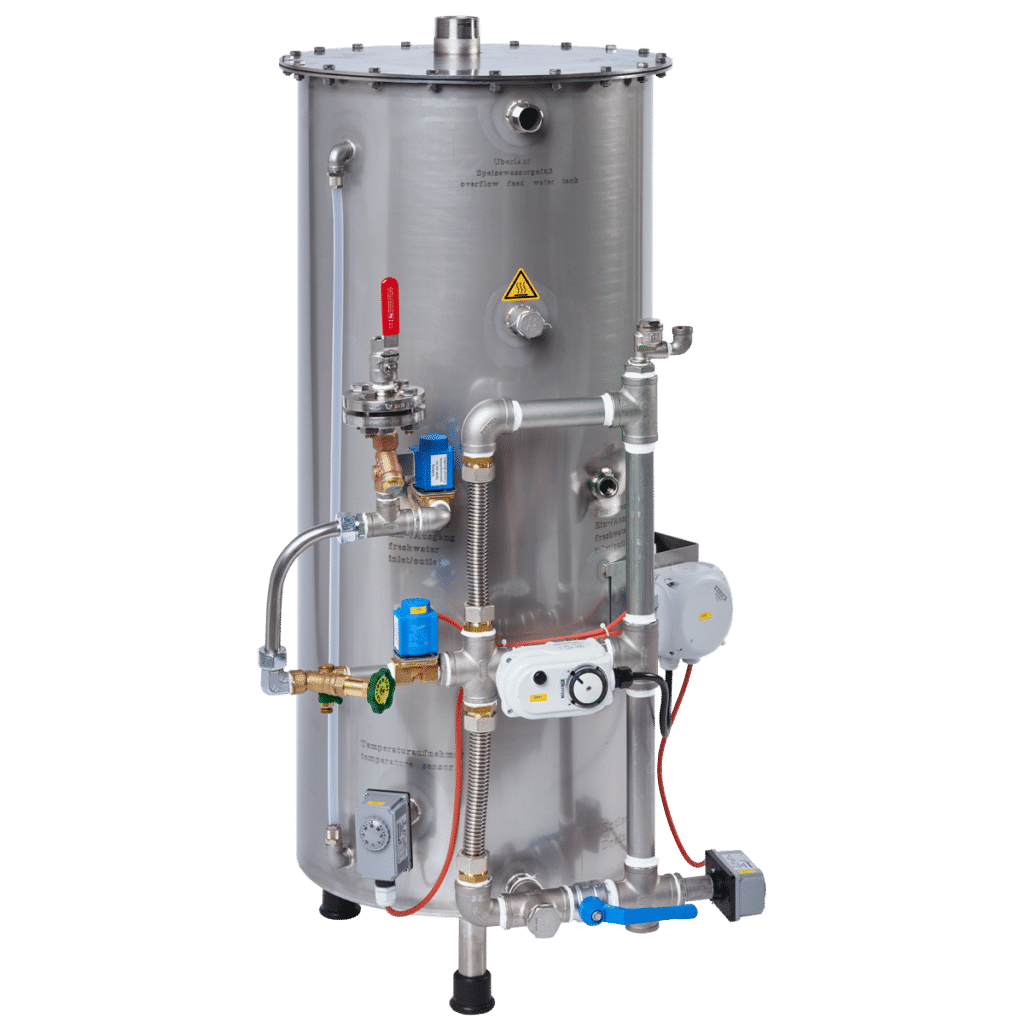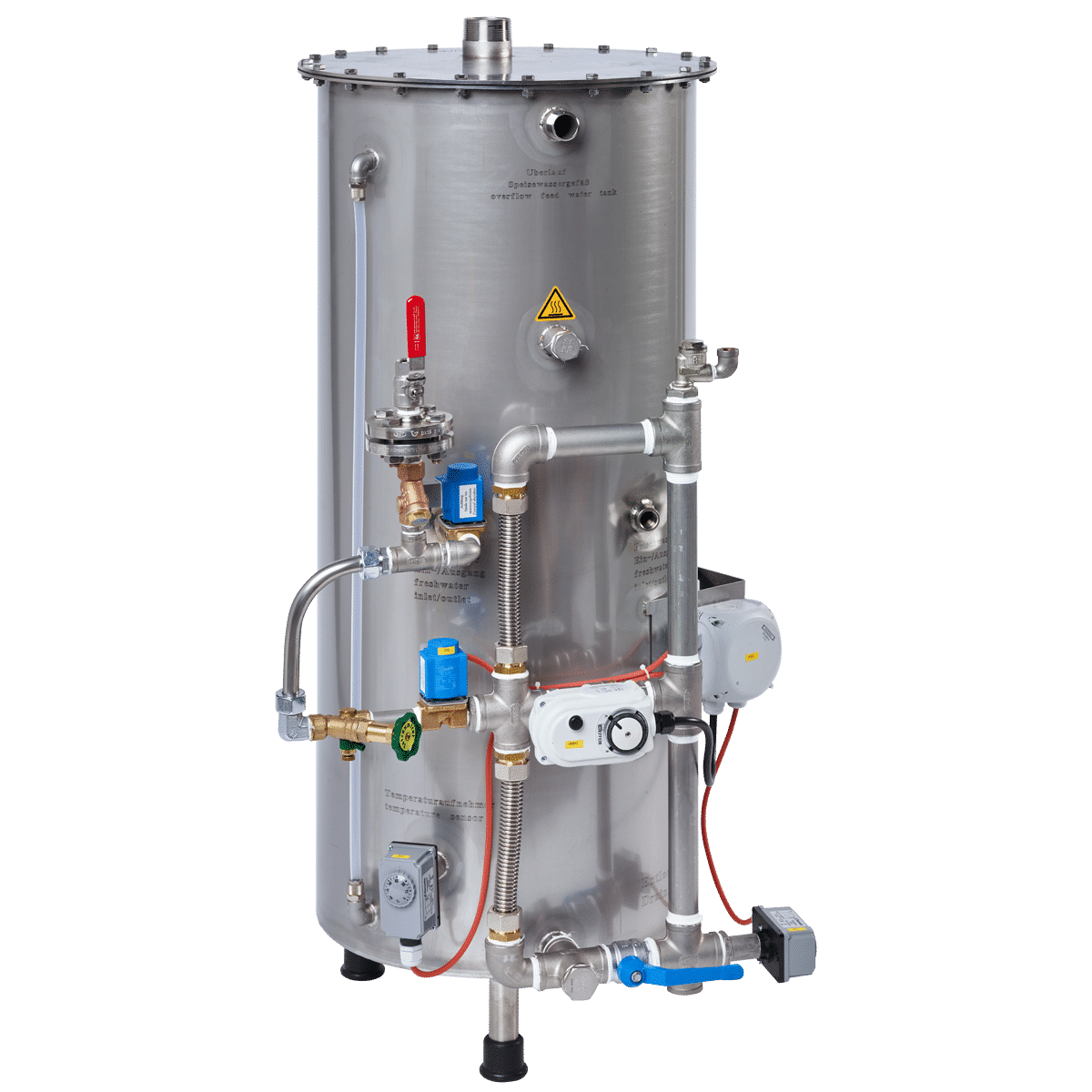 Economical, energy-efficient, versatile. Overview of our product range
JUMAG to go!
Here you can see all products at a glance.
Do you still have questions about blow down vessels?