Tim becomes a mechatronics engineer
Brains, fine motor skills and technical understanding. All of this is needed if you want to work successfully on installation walls, soldering, wiring. Tim Haidinger learns how to set up circuits, how to build a USB hub and how pneumatics are used. He is currently training to become a mechatronics engineer at JUMAG. The training lasts three and a half years.
Perfect preparation by affiliated partners
To start with, the friendly trainee has colleagues from many other companies in the region. This is because the first part of his training will be provided by the affiliated partner Freudenberg Service KG in Weinheim. A suitable working environment for this versatile profession is offered there. You can learn about filing and sawing, turning and milling, assembling, installing and configuring systems, plants and machines. Electrical engineering training includes installation technology, basics of PLC programming and drive technology.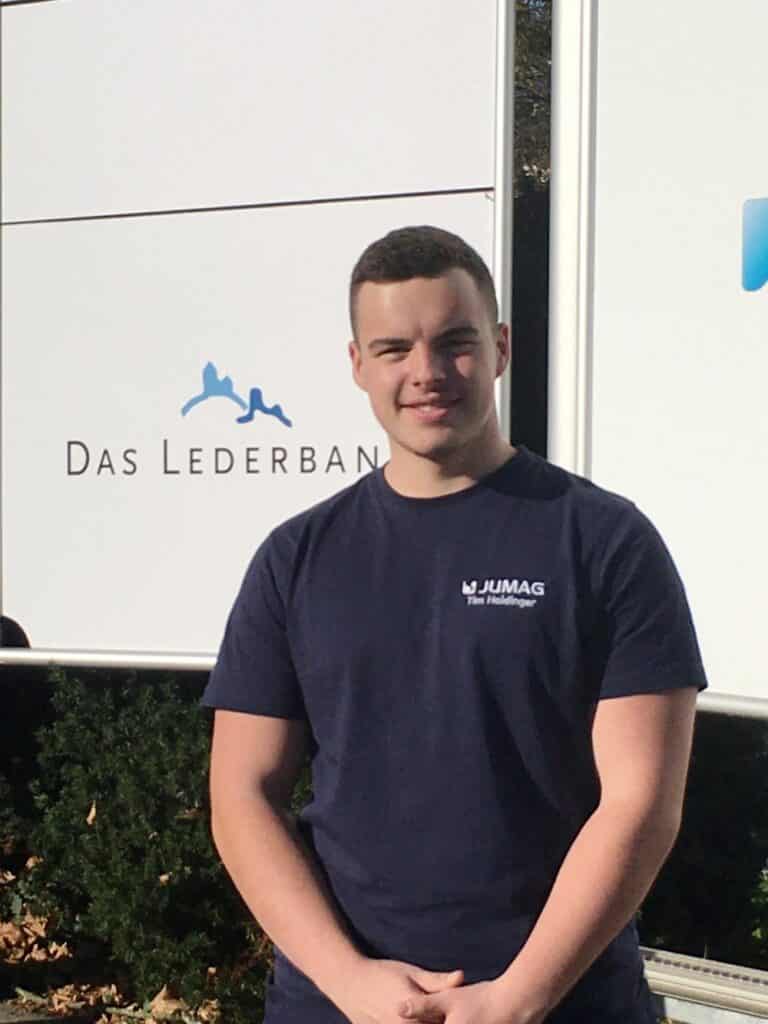 Modern training
Tim attends the Werner-von-Siemens school in Mannheim. It specialises in technical apprenticeships. Tim's training subjects will also include computer science and robotics, for example how to program software for a robot.
Good technical understanding required
Why is mechatronics precisely his "cup of tea"? Tim sees a good technical understanding as a basic requirement. "Having an interest in how things work", Tim says. Now he can put his skills into practice, working on lathes, welding machines and work benches. He currently has an early shift, but also an early closing time.
Steffen Schmidt, Production manager at JUMAG, still remembers his training well and is Tim's main contact. Together with him, Tim learned the "basics" of the company at JUMAG: How does a steam boiler work? How is production structured at JUMAG? What does a service technician do? But things really start to get hands-on during the second year of training at JUMAG. Then he will actively participate in the teams and can contribute his knowledge.
Do we want to know if he enjoys the training? "Definitely", says Tim, "I'm really lucky, it's exciting and I've ended up in a great team!
Training at JUMAG
If you are interested in a technical apprenticeship, apply to work with us! The prerequisite is an intermediate education qualification with good grades in scientific subjects.