Applying to JUMAG is as gratifying as working for us. Because for us, it's the person that counts, not the documents. Therefore, you can confidently apply without long motivation letters or elaborate portfolios. Just get in touch with us! Here you can find out everything about your application.
Vacancies
Typical areas at our company are technical service and customer service, development, production, sales and distribution. For example:
Mechatronics Technician / Mechanical Engineering Electrician

Customer Service / Field Service Technician

Customer Service / Internal Service Technician
You can always find all vacancies on our careers website.  
Unsolicited application
As we are growing, we also welcome unsolicited applications in technical and commercial professions.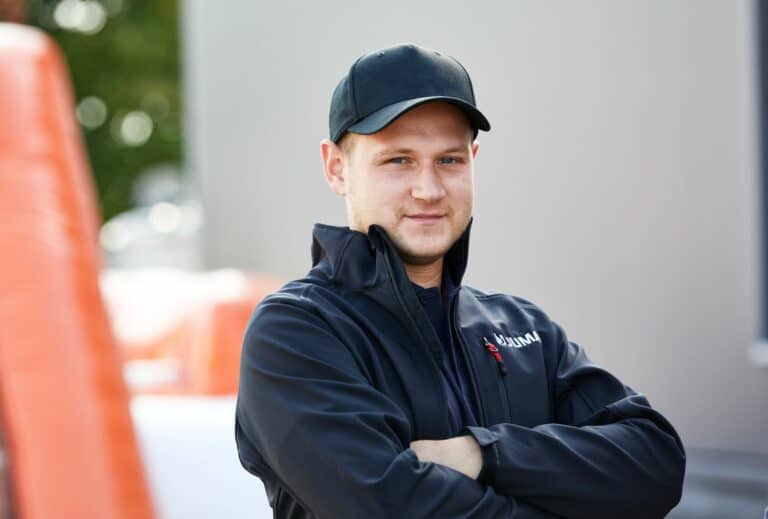 Tips for your application at JUMAG
We want to get to know you as a person. That's why you don't need to read career guides for us, and you don't need to write any motivation letters or bring an elaborate application portfolio.
How do I find out if I should apply?
Just give us a call and ask us!
What is the best way to apply?
Choose what works easiest for you:
By post to JUMAG, Andreas Kohl, Badener Straße 8a, 69493 Hirschberg

By calling the telephone number 0162 / 90 947 43

By email to kohl@jumag.de
What we want to know
Brief CV: What have you done so far?

What are you good at? Certificates available?

Which job would you enjoy with us? 
Finished? Feel free to add what is important to you. We will discuss everything else in person.

Don't have a good photo for the application?
It doesn't matter. Smile at your phone camera and send us any picture. It doesn't matter to us whether New York, Weinheim, Mannheim, your child or your mountain bike is in the background.
Don't have a current CV?
No problem. Everyone has their story and we are open to hearing yours. With us, newcomers from a different profession and returnees have the same opportunities as everyone else.
Your required qualifications
Your education or work experience
For many tasks, you have good prerequisites with a technical education or experience in technical profession, for example as:
A mechatronics engineer
A mechanic
A metal worker
An electronics technician
An industrial mechanic
A plant mechanic
A process mechanic
A mechanical engineer
A technical draughtsman
A lathe operator
A welder
An electrician
A toolmaker
An information electronics technician
An electrician/ electrical installer
What counts for us
That you like us
That you want to build or sell the best steam boilers in the world
That we are personable to each other
That you like to work hard with and for your team
That you have a good grasp of things and like to learn new things
From the interview to the hiring date
Once we have received your application, we will get back to you within a few days. For an initial discussion, we can meet online (MS Teams, Zoom) or at JUMAG in Hirschberg. 

No pre-selection in the HR department. In the first interview, you usually meet one of our managing directors and a team leader, who will be able to answer all your questions about your area of responsibility. 

We do not have assessment centres, recruitment tests or other standardised selection procedures. You will receive personal feedback from us.

If we think we could be a good fit for each other, we would be happy to offer you the opportunity to work with us on a trial basis for a day. On a trial day, you will learn a lot about our products – and get to know team colleagues. 
How quickly does it go from application to employment?
Whether you can start the next day or six months from now often depends on your personal situation. Perhaps you have longer notice periods, or need a little time to think things over. We'll just talk about it!
Employment contract is signed and the first day of work is here? We would like you to become very well acquainted with us. That's what our JU:CADEMY is for. Your team leader, your team colleagues and employees from all departments make a lot of time for you. We have a friendly, informal atmosphere and everyone is welcomed with open arms. You can look forward to it! And this is how it works in detail:
Even before you start work, you will have received your personal induction plan. It states exactly when you will be instructed in which areas and activities. In the first few weeks you will learn a lot about our company, our products, health and safety at work, quality management, purchasing, sales, production, installation and much more. 

Got it? Together we check whether you understood all the new information. Of course, you will receive your first JU:CADEMY certificate. 
We are not idle either.
Smooth processes are important to us! That is why there are fixed processes for onboarding new colleagues. From PCs, to the lettering of your new office, to business cards.
Off to production!
Whether before, in between or afterwards – you will definitely get an insight into our production, regardless of your position at JUMAG. Because that is a valuable and exciting experience that everyone gets to have here at JUMAG.
Training on the Job
Now it's getting serious – or rather, the fun is only just beginning! After the training, you will be trained on the job and slowly introduced to the subject matter. You will have a mentor who you can turn to at any time and who is responsible for you. 
Further training is always encouraged at JUMAG.
And since it is a well-known fact that you never stop learning, you are always welcome to request further or other training that can help you do your job even better. Everything is possible, from office and language courses to productivity improvement courses.